The NYAQ consisted of John Tchicai, Roswell Rudd, Milford Graves and Reggie Workman, and it was founded in 1964 "at a time when the evolutive phases of my spiritual and creative potential were in need of being expressed without limitation," said drummer Milford Graves.
Read what John Tchicai said about the group back then, in the linernotes of their '65 album "Mohawk"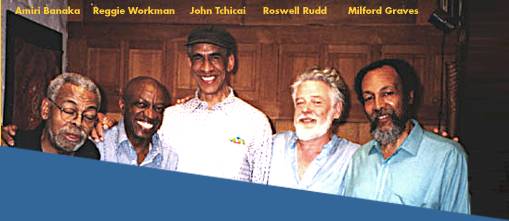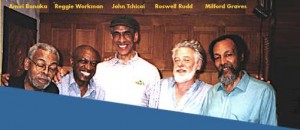 Read how Roswell Rudd described the NYAQ's '60s-period, and what he wrote as in memoriam after John's death in 2012.
As Keith Shadwick puts it in "The Illustrated Story of Jazz": "This group, comprising four vastly talented players, eschewed the grab for the throat that other New York avant-gardists were aiming for, and produced a small but brilliant body of work, relying heavily on collective improvisation of a rare intuitive level. The band was the harbinger of collective musical approaches and philosophies which leading avant groups of the seventies such as The Art Ensemble of Chicago would develop." The NYAQ took a long break from 1966 until 1999, and then, at the eve of their "reunion-concert", Francis Davis wrote in the NY Times: "This group's music can be as attractive an alternative to today's free jazz as it was to yesterday's".
After the concert, Jon Pareles concluded, also in the NY Times: "An avant-garde that doesn't depend on shock value need not become obsolete… Mr. Graves paced the set as his cymbals whispered and splashed, and his bass drum created an almost melodic counterpoint to Mr. Workman's bowed meditations, throbbing drones and scampering lines. Mr. Tchicai was the earnest voice, playing terse, riff like lines and then racing up to whorls and cries. Mr. Rudd was a jokester, using his plunger mute to play elbow-in-the-rib hoots and whinnies, or sparring with Mr. Tchicai in quick lines."
The late poet Amiri Baraka joined the quartet for this concert and he wrote the following poem:
1 + 1 = 1
Inside the Music
Is like everywhere being
Everything. To tell a story
Is like that. Look at those
Eyes gone inside you, like the
Notes, unseen but alive
As what always will be
The eyes of everyone you've ever seen
Begin where the sound alerts
Us. And what opens is the
Front of ourselves, staring
Back from behind your feelings
Inside the music, it is
Everybody understanding what
Exists. The Devil can't get in
The next day, NYAQ recorded the CD "35th Reunion" for the Japanese label DIW.
Reggie Workman said in the liner notes: "What an indescribable pleasure to be in the company of and make music with people I consider to be true innovators and warriors in the art world. These are performers who have "stuck by their guns" (the sign of the true warrior). You will notice herein that evolution has been in the forefront for each of the artist you are about to travel with. ENJOY."
John Tchicai remarked: "One day back in the '60s, in my apartment on 46th Street, between 3rd & Lexington, when I was doing an LSD trip, not THE bad one where I had to phone my girlfriend to come and save me, but the good one where I was listening to a recording of the NYAQ. With my eyes closed, I saw the most wonderful patterns and colors that I hadn't seen anywhere else before. It was happening in my mind together with the music, and right there I decided that this was where I wanted to go, to reach this level of extacy and exultance, but in a natural way and not by doing any drugs whatsoever. I have been practising yoga and Pranayama ever since and now with the reunion of the NYAQ, I, and listeners of this recording can try out the color-faculty of our minds, to see which patterns emerge. If nothing happens, don't worry, one thing is certain, we'll all be deeply influenced in a positive way, and inspired from these honest and healthy musical expressions."
The group played the Paris Banlieues Blues Festival in 2000 and the Lisboa festival in 2001.
In 2013, Triple Point Records issued a special release, "Call it Art", of all the available NYAQ recordings of 1964-65, consisting of 5 lps and a booklet, put together by musicologist Benjamin Young.
In the same year, videographer Alan Roth's documentary "The Breath courses through us" about the NYAQ was premiered.